LOVELEEN HANSA BHASKAR- Miss Universal Fashion Icon
Fashion modelling – it's not just about a pretty face!
Happy World Women's Day-March -8 th- 2022
Let's adore the beauty on "GREAT DAY WITH GREAT PERSONALITY"
For beautiful eyes, look for the good in others; for beautiful lips, speak only words of kindness; and for poise, walk with the knowledge that you are never alone.
Yes dear friends today we are going to interview with Miss Universal Fashion Icon, Miss LOVELEEN HANSA BHASKAR from the city of joy Kolkata, West Bengal.
ROGER: Good morning Miss LOVELEEN.. One of the leading fashion icon and one most beautiful and charming fashion model of India. Today we are really happy to see you in our studio, , It's a great pleasure to have you with us on "Great Day With Great Personality". Yes today MARCH – 8th we are celebrating WORLD WOMEN'S DAY, we welcome you to deliver your great aspiration thoughts and your motivational guidance to all your fans who are aspiring to become models.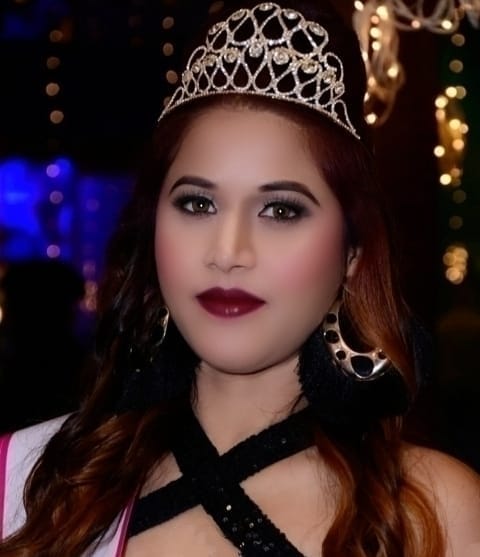 ROGER: Miss Loveleen how do you feel the glamorous ramp walk in a fashion show, please share your great experience with us
LOVELEEN: Oh yeah sure… Thank you so much, definitely who has not looked at a pretty model walking down the ramp in a fashion show and envied her glamorous lifestyle? Most of us, at one point or the other in life, admired models, their poise and charm. Some of us have even wanted to be models. However, the life and career of a model is not all glam, as it looks like from the outside. Modelling is not just about having a pretty face; it is much more than that. A lot goes into the making of a model,
ROGER: Miss Loveleen Fashion modelling is a highly competitive career? And what are the challenges in this fashion field ?
Mr.Roger, Fashion Modelling is a highly competitive career. It would not be wrong to say that it is as demanding a career as it is lucrative. A lot of hard work, patience, dedication and strong determination are required to pursue a career in this field. A person starting out a career in fashion modelling usually has to face a lot of rejections and struggle. Hence, it is essential that the person persevere in the struggle and not give up midway.
A modelling career involves long hours in studios as well as on shoots in outdoor locations. To cope up with this hectic schedule, physical fitness is very important. It becomes mandatory to exercise regularly, eat and sleep healthy, and have a good beauty regimen in place. Physical fitness is as much a requirement in this field as is mental fitness.
ROGER: We want to know about professional attitude in fashion models. As a leading and professional fashion model what do you think about that Miss Loveleen,
Yes..! Another very essential prerequisite is a highly professional attitude. A would-be model should be on time for assignments. It is necessary to be flexible and open-minded, and be accommodative to flexible timings as well as extensive travel schedules. A model should have the capability to handle criticism well.
ROGER: Miss Loveleen you are not only a successful fashion model but also you are a great jury, we know you are the best jury in domestic and International level. Can you share about Judgemental abilities as a jury in this fashion modelling field
LOVELEEN: You know a good sense of discretion and judgement would go a long way in a modelling career. Judgemental abilities would help the model in leading a 'model' life, avoiding excesses that the world of glamour invariably involves. A model should be able to use his discretionary powers to determine which assignments to undertake and which ones to avoid, so that his or her reputation is not tarnished.
ROGER: National and International Fashion Model Award Winner Miss Loveleen, Why be a fashion model?
LOVELEEN: Fashion model is indeed a wonderful field to work in. It is not only glamourous, but also a very exciting way to earn one's living. It is, of course, a lucrative career option as well. One gets a chance to travel to exotic destinations and interact with the who's who of the fashion industry.
ROGER: Thank you so much Miss Loveleen Hansa Bhaskar, on this great world women's day we proudly wish you HAPPY WOMEN"S DAY. May you achieve great success in life. Thank you for being on " GREAT DAY WITH GREAT PERSONALITY"
So, do you think you have it in you? Then, as Subroto Bagchi says, "Go, kiss the world!"
Author Profile
Jitendra Kumar Born on October 10, 1990 an Indian author and activist from Hathras in Uttar Pradesh.