Vikram Vedha Review Hrithik Roshan's acting is at its peak in the movie, Saif Ali Khan has done dramatic but being realistic.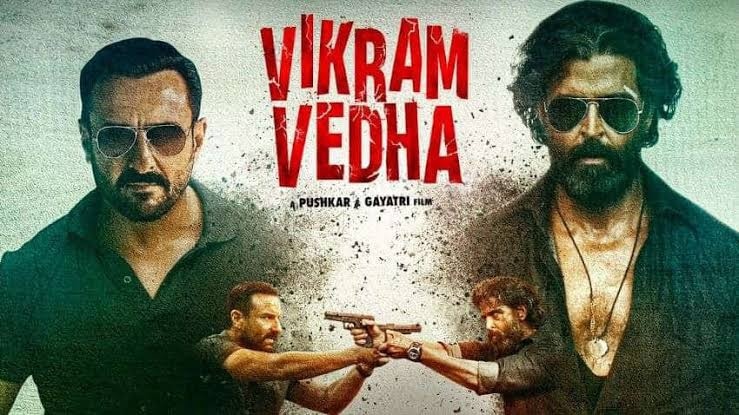 One of the ultimate hindi movies so far! It's very intriguing, thrilling, puzzling, & with so much moral! Hrithik Roshan's acting is at its peak in the movie, as always! I'd say, his, is a casual (or personal) acting forgetting about the camera shooting him, letting him be himself, do & act the way he wants, & the way it should be for the story, dialogues, & his character in the movies. This is natural acting, the way how one lives, talks, thinks, acts, & does things in his/her normal, routine, & typical life. They should make more sequel movies with the same title "Vikram Vedha" &/or with catchy taglines or slogans about, probably the story or moral in the movie. Even 100s or 1000s of movies can be made with the SAME movie title, same crew, actors, directors, especially the story writers, dialogue writers, cinematographers, & others, EXCEPT with the small stories within, which are obviously different. Hrithik could be given the exact same role, even narrating other stories about others in real-life these days &, yet co-relating to the moral, morale, & age old lifestyles. They could probably incorporate & use age old & well-known proverbs phrases, everyday slangs, etc.
The story is simply superb, especially when it relates to the real life of people, their, thoughts, confusions, decisions, actions, the good & the bad things in their lives. All the credits go to the story-writer, dialogue writer, Hrithik (a hero in terms of acting in this movie), & yet being the villain & a bad actor/doer in the movie. The logic, analogies, examples, co-relating incidents, are enlightening. The movie is made look realistically, that's the way it should be, & is very well executed, with no exaggeration, & hype, or fussing about unnecessary things. Obviously, people, especially children in India have been fans of Vikram & Betaal stories for 1,000s of years. These have been bed-time stories giving knowledge, moral, morale, thrill, & intrigue to children & adults. This is a very good way of narrating stories (like Arabian Nights or 1000 lives of Buddha), teaching, & even preaching people about the old age lifestyles & modern lifestyles & yet the basic purpose of life being the same. This is the golden opportunity to keep up their existing good work, team, intention, & purpose through making more "Vikram Vedha" movies. This concept of "Vikram Vedha" can be used in more films without any hesitation & people would definitely be interested & watch the movie. Saif Ali Khan has done a very good job in the movie with his casual & natural acting not being dramatic but being realistic. More "Vikram Vedha" movies should be made, probably using the real events & incidents happened so far to different people in the society from different sectors showing the movies in different life aspects. They could have probably shown Hrithik (Vedha) escape again in the end, so Saif (Vikram) in the sequel movie can look for & chase him, catch him again, & him (Vedha) narrate another story, & so on. The sequel movies should capture all the actors' everyday little logics, actions, thoughts, lifestyles, etc to make understand the audience how everything, everyone, & everybody's' actions are interlinked & become chain-reactions. More "Vikram Vedha" movies can be made to show more & different good & bad things both, from old times & modern times. The movie brings in consciousness in oneself. This opportunity should be used in a very good & right way to tell the audience good things in a constructive way. I liked this movie very much, in fact, I loved it, JUST BECAUSE it has been executed in "Vikram Vedha" mythological and folklore way. I am expecting more hindi movies, hopefully with the same movie title "Vikram Vedha" and probably with different taglines!
Author Profile
Adarsh Swaroop hails from Agra, India, and was born on 31st December 1992. He belonged to a business family. However, his dreams were beyond all this as he very early had realized his love for the media space. This motivated him to start his career in journalism, and he went ahead to become a film critic, film trade analyst, editor, and even a model, content writer, script & screenwriter, hacker, Income Tax, GST, and Law advisor. This proves his versatility as a professional and imbues more inspiration in the youth of India today with his successes.Besides this, the young talent also optimizes social media platforms like Instagram (@adarsh_swaroop_) to share his views, reviews, and analysis on movies.

As a journalist, film, and trade analyst, he wants other budding talents in the industry to focus on being honest and authentic in presenting their opinions and reviews in their niches. Instead of blindly following what other professionals are doing in the industry, film critics and analysts must focus on how they can present a genuine review, whether good or bad, to the audiences without sensationalizing things.