The Fireboxx is a media and entertainment firm which came into existence from the September of 2019 with an aim to provide a platform to artists coming from all walks of life. We are a proud family of talented in-house poets, writers, singers, anchors, organisers and many more. Fireboxx family consists of many prominent artists from India and abroad. We also work in the field of book publishing, cover designing, book compilation, editing , distribution, and hosting open mic events. We have set foot into the areas of affiliate marketing and online stores. The Fireboxx has around 13 anthologies and 2 independent books to its name. We have hosted several open mic events, competitions, and awards over the course of time and are continuing to do so. 'Entrepreneurial magazine' is the most recent venture of the Fireboxx. We continue to innovate and evolve as a team to excel in the field of entertainment, art, and business. We owe our success to the amazing people who collaborated with us and trusted us with their art and talent. Our aim is to keep up their faith in us now, and forever! A few of the achievements of the Fireboxx are: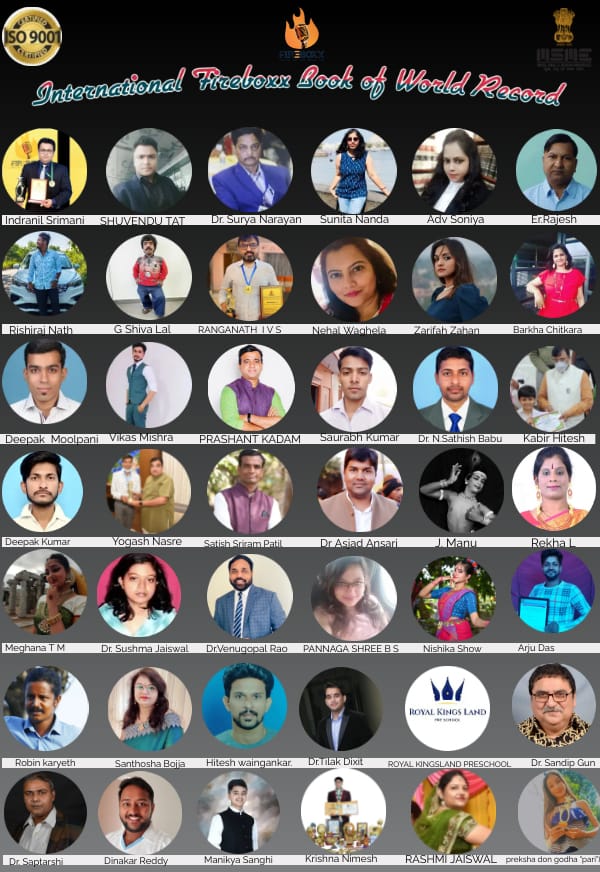 Publication of 15 books in 18 months: Akash Gupta says that within the span of the first 18 months, the publication of 15 books has been accomplished by Fireboxx. In this, more than 500 authors contributed their art in 12 books.
World record: With the help of his novel thinking and creativity, CEO Akash Gupta was able to win the Kalam Book of World Records for the book "Meri Maa". The book had poetries in Hindi, English and Punjabi. This provided a platform to about 35 authors from India and an Italian.
Fireboxx International Awards: This aim to honour the budding artists in the world of arts and sports all around the globe in various categories. The Fireboxx awards is a forum to celebrate and support talented artists and achievers from all walks of life. We have 100s of in-house poets, writers, singers, dancers, musicians, models, actors, sports enthusiasts, and more. In the Fireboxx Award Ceremony, we promote and honor people who has achieved exemplary heights in different fields. Below is the list of talents that we have honoured with a Fireboxx Award along with the category for which they are awarded:
Indranil Srimani
SHUVENDU TAT
Dr. Surya Narayan Maiti
Sunita Nanda
Adv Soniya Gajbhiye
Er.Rajesh Kumar Verma
Rishiraj Nath
G Shiva Lal
RANGANATH I V S
Nehal Waghela
Zarifah Zahan
Barkha Chitkara
Deepak Inder Moolpani
Vikas Mishra
PRASHANT KADAM
Saurabh Kumar
Dr. N.Sathish Babu
Kabir Hitesh Suchak
Deepak Kumar
Yogash wasudevrav Nasre
Satish Sriram Patil
Dr Asjad Ansari
J. Manu
Rekha L
25Meghana T M
Dr. Sushma Jaiswal
Dr.Venugopal Rao Chikkala
PANNAGA SHREE B S
Nishika Show
Arju Das
Robin karyeth
Santhosha Bojja
Hitesh hanumant waingankar.
Dr.Tilak Dixit
ROYAL KINGSLAND PRESCHOOL
Krish Malhotra (Best young achiever)
Dr. Sandip Gun
Dr. Saptarshi Ghosh
Dinakar Reddy
Manikya Sanghi
Krishna Nimesh Sheth
Ashwani Kumar
RASHMI JAISWAL
प्रेक्षा डॉन गोधा "परी" (preksha don godha "pari")
Nominations are still open for the same, and Akash and his team are currently busy organising multiple aspects of the event.
Fireboxx's book "Secret of Love", compiled by Mansi Kawale and Akash Gupta was selected as an international publication in the series of records. The book contained published works of 33 Indian authors and 15 international authors. Akash has also been nominated for the Indian Achiever Award 2020.
Fireboxx is also a proud winner of the International Kalam's Golden Award ( Best Achiever of 2021). Fireboxx continues to shine bright in the world of books and literature. Fireboxx aspires to be an inspiration to many youngsters who dream to make it big in the areas they are passionate about. Fireboxx family hopes that the celebration of art never cease and continues to grow every which way.