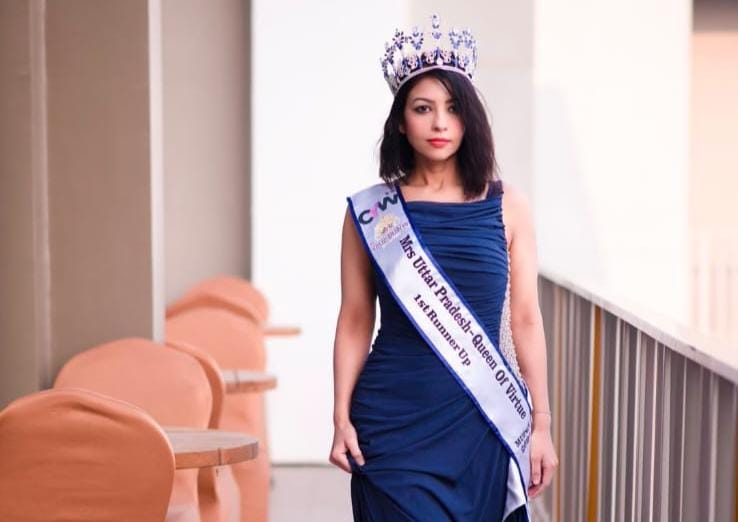 There is a wonderful saying that any task undertaken with unflinching hard work and dedication is bound to bring success and glory. One such story is that of Neha Mohanty from Ghaziabad, who went on win the coveted, "First Runner-Up title at Mrs. Uttar Pradesh Queen of Virtue Beauty Pageant 2021". She also won the "Best Cat Walk title".
The event was keenly contested amongst twenty-two finalists who were mentored by specialists. The participants were scrutinized by Judges during various rounds which included the talent round, introduction round, ramp walk and the question and answer session.
Neha said that achieving the feat was difficult and through sheer grit and determination, she kept the tempo going, excelling in the rounds and finally achieving the summit. She went on to thank her family for their unflinching support, with a special mention of her 11 year old son and husband who is a naval officer, the organisers which included Preeti Yadav, the Zoya Factor, Lokesh Sharma and team, Khushboo Lamba and Monica Jasrotia. She said the organisers played a pivotal role in grooming, motivating her all throughout this memorable journey and providing a capable platform to married women to showcase their talent.
Preeti Yadav, the organizer of the show wished Neha Mohanty all the very best and commended her success will definitely motivate other married women to pursue their dreams
Continue Reading on Xpert Times
Author Profile
Jitendra Kumar Born on October 10, 1990 an Indian author and activist from Hathras in Uttar Pradesh.