Quick Edit: How much cricket is Team India playing compared to other top teams? | Cricket News
One term that we have been hearing a fair bit in discussions about international cricket for a while now is – player workload management.
There is no doubt that the number of cricket matches that players have to play have multiplied manifold over the last two decades or so. The last 2 year period has been a slight anomaly because of the Covid-19 situation, which hit the sporting calendar quite hard. And cricket was no exception. The pandemic forced multiple countries to postpone or cancel cricket fixtures.
But overall, when sport can be played, the workload is a heavy one. And the issue needs to be looked at.
The Indian senior men's cricket team is one of the premier cricket teams in the world and their workload too, like that of other top teams, has become extremely heavy. Player rotation, adequate rest, pinpointing specific players for specific formats, building a second and third rung of players who can step in whenever needed therefore have steadily become areas that National Boards and team managements have started looking at more and more seriously.
It wasn't a surprise really to see
Virat Kohli
being rested after the
World Cup
for the entire T20I series vs New Zealand and the first Test.
Virat
is in that bracket of Indian players who play all formats of the game and are almost constantly on the road. New Zealand captain
Kane Williamson
too realised he needed rest after the T20 World Cup, in which the Kiwis made it all the way to the final, and decided to skip the T20I series vs India. The Kiwis who were part of the NZ squad for the tour of India had to almost immediately after the World Cup final pack their bags and travel to India.
In the post
Covid
world, the mental health aspect of players and the possible threat of player burnout is rightfully being talked about more and more as well.
Glenn Maxwell
's decision to pull out in the middle of a series in 2019 because he needed to take a mental break might have surprised some, but it was a very important message to others. One that said – it's alright to take a break when you think you need one, even if you are not physically tired. Mental tiredness needs to be a factor too. You don't have to play every single match.
From the outside it might look all glitzy and glamorous, but being in constant bio-bubbles is a very tough thing to do.
Another thing that needs to be kept in mind while discussing player workload is that the players are not just in action while playing the matches. Their work starts from the moment they leave their homes and are on the road travelling for various assignments.
Just look at India's current schedule.
IPL
2021 finished on October 15. The T20 World Cup began on October 17. India of course started their campaign in the Super 12 stage and played their first match on October 24, but the players selected in the Indian squad had to hit their reset buttons after the IPL and make this very quick turnaround to be in World Cup mode.
India were knocked out in the Super 12 stage itself, which meant the players who were selected for the T20I series vs New Zealand got a mini break, if we could call it that, before the series against the Black Caps began. Hypothetically if India had made it to the final, they would have been in the same position that the Kiwis found themselves in – playing an international bilateral series (which started on November 17), barely two days after a World Cup final (November 14).
The NZ series ends with two Tests in Kanpur and Mumbai. The second Test is scheduled till December 7. And after that
Team India
fly off to South Africa for a full tour (Tests, ODIs and T20Is), which begins with the first Test starting December 17.
Since we are talking about the excessive workload of international cricketers, let's take a quick look at how much cricket three of the top teams in world cricket have played since January 1, 2018 till the end of the recently concluded T20 World Cup (November 14, 2021). That's a span of 46 months and 14 days.
In this period, India played 37 Tests, 63 ODIs and 59 T20Is for a total of 159 international matches.
In the same time period, Australia played 27 Tests, 52 ODIs and 58 T20Is, for a total of 137 international matches across all three formats.
And England in comparison played a whopping 46 Tests, 64 ODIs (most Tests and ODIs among these three teams) and 47 T20Is. Their total number of international matches played from January 1, 2018 till the end of the 2021 T20 World Cup (November 14, 2021) was 157.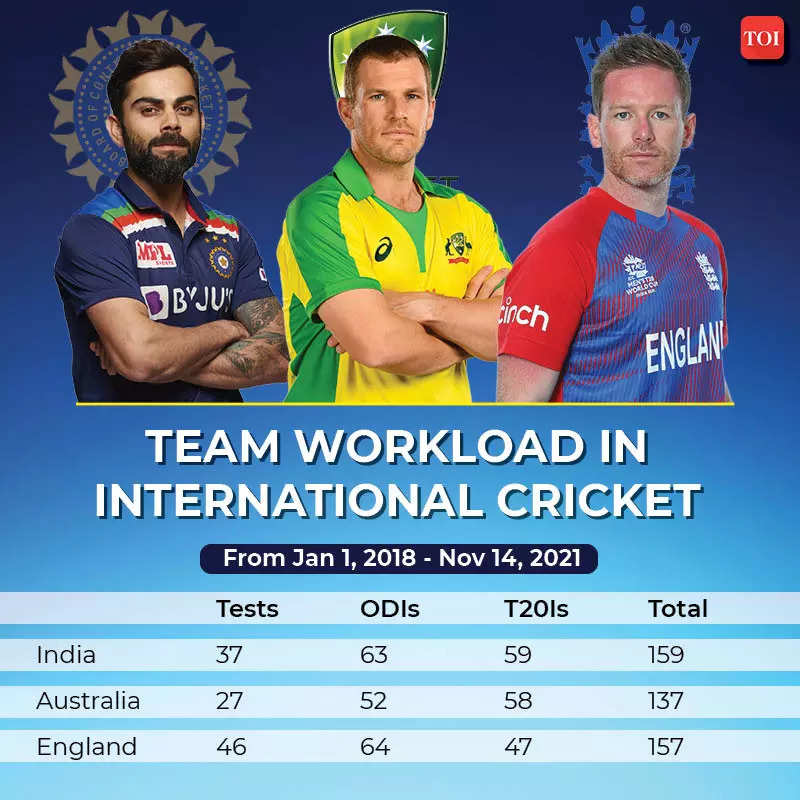 Stats courtesy: Rajesh Kumar
These numbers show the sheer volume of cricket that is being played these days, especially by the top teams.
Those were the total number of matches played. But what about the total number of days that the Indian players were on the field?
A closer look at the numbers reveal that out of the 37 Tests which India played in this period (Jan 1, 2018 to November 14, 2021), there were – Two instances of 2-day Tests, Ten of 3-day Tests, Twelve of 4-day Tests and Thirteen instances of 5-day Tests. That's a total of 147 Test days played by Team India. Add the 63 ODIs and 59 T20is to that and we have a grand total of 269 days that the players were on the field for.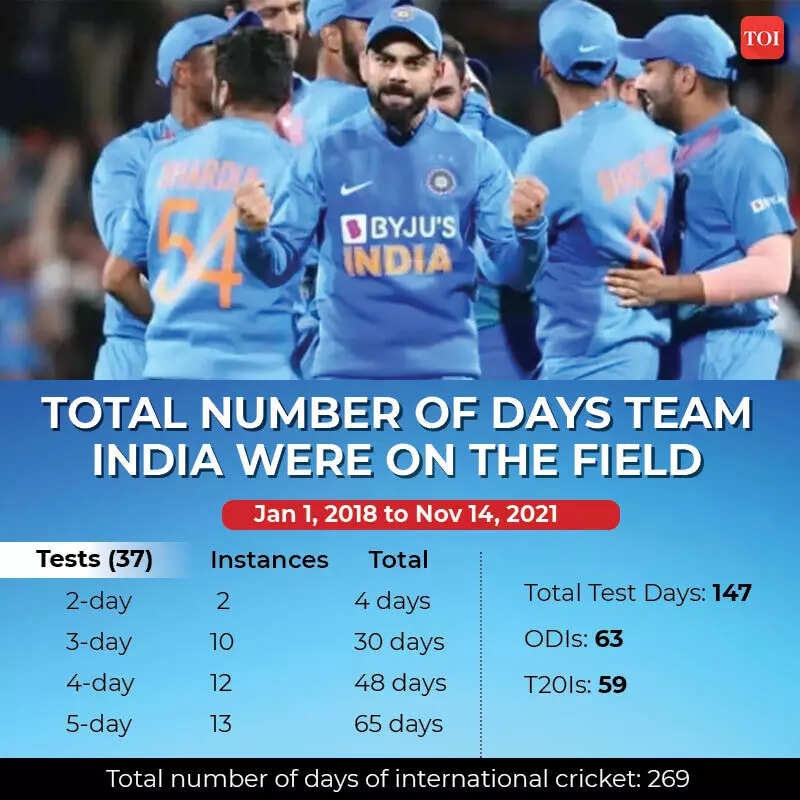 Stats courtesy: Rajesh Kumar
Another thing that needs to be kept in mind is that Covid hit the international cricket calendar as well. And that happened roughly early 2020 onwards.
So, let's go back about 4 more years and see what things were like then.
If we look at the numbers from January 1, 2014 to December 31, 2017, which is equal to 48 months – this is what they tell us:
In this period, Team India played 42 Tests, 89 ODIs and 45 T20Is, for a total of 176 international matches.
Australia played 44 Tests, 81 ODIs and 31 T20Is in this time span (January 1, 2014 to December 31, 2017). A total of 156 international matches.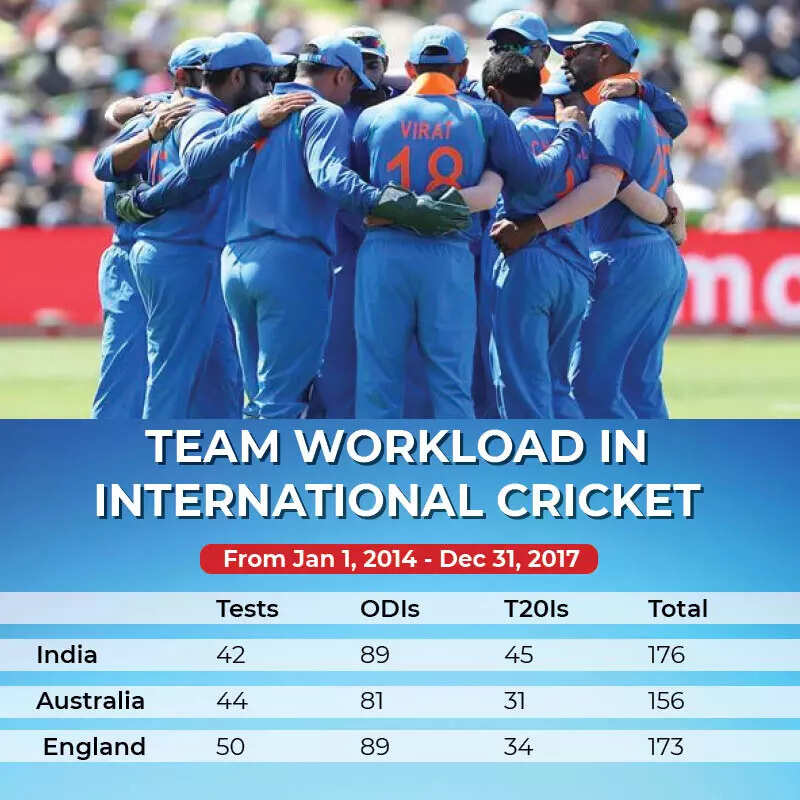 Stats courtesy: Rajesh Kumar
And England in this period (January 1, 2014 to December 31, 2017) played 50 Tests, 89 ODIs and 34 T20Is for a total of 173 matches.
Many of the New Zealand players reached India less than 24 hours after the T20 World Cup final loss vs Australia. It was not a surprise really to hear stand-in captain Kiwi, Tim Southee, say after the second T20I vs India on Friday that it has been a hectic schedule for them and that didn't allow them to adapt themselves to the surfaces the way they would have liked to.
It might sound like an excuse to some, but imagine what it's like to fly out right after a gruelling World Cup campaign and start playing again in literally the span of a couple of days.
Let's face it. The workload, across the board, has been immense for a while now.