Patralekhaa's stylist Namita Alexander: She was the most chilled out bride; Rajkummar was so happy, he kept dancing throughout the wedding – Times of India
Wedding season is officially upon us and B-Town is also gearing up for the festivities. While a lot of weddings are yet to happen,
Rajkummar Rao
and
Patralekhaa
got a headstart and sealed the deal in a private wedding ceremony. Held in Chandigarh, the intimate wedding was attended by only close family, friends, and industry celebs. However, the actors soon shared pictures from their dreamy nuptials. And besides everything else, fans just couldn't stop gushing about how beautiful the couple looked in their wedding attires. Both Rajkummar and Patralekhaa's looks are now being bookmarked by brides and grooms who want to look just as impeccable on their wedding day. ETimes spoke to Patralekhaa's stylist
Namita Alexander
who styled the actress for all events of the wedding. She decoded the bride's look–from the personalised veil to the smooth blend of traditional and modern aesthetics–and also revealed how it took three months to get the wedding trousseau customised. Excerpts from the chat:
Patralekhaa's wedding looks went viral! How did you put it all together?


Sabyasachi is the go-to designer for every bride and Patralekhaa wanted to be projected as a traditional Bengali bride, as that's her family roots. For this reason, we decided to go for red. We decided to go for all the detailing of a Bengali bride such as the white chandan art on her forehead and alta on her hands instead of mehendi. We tried to be traditional yet modern in an effortless manner. Patralekhaa was very clear about being comfortable, hence we didn't want a heavy saree. The bridal trousseau was a very light saree with embroidery on the net. The veil had a beautiful Bengali line inscribed on the border; Sabyasachi came up with that for her. It means, 'All the love in my heart, I surrender to you'.

Tell us more…


Patralekhaa was the most chilled-out and coolest bride, honestly! She wanted to be comfortable as she knew she was going to be in the mandap for a long time. She had a long walk up to the mandap where her family–mother, brother, and sister along with their two pet dogs, including Patra's pet Gaga–walked behind her. In fact, Gaga was twinning with her in a red outfit designed by me. It was literally in the same shade of red with velcro, and had borders to match Sabyasachi's creation.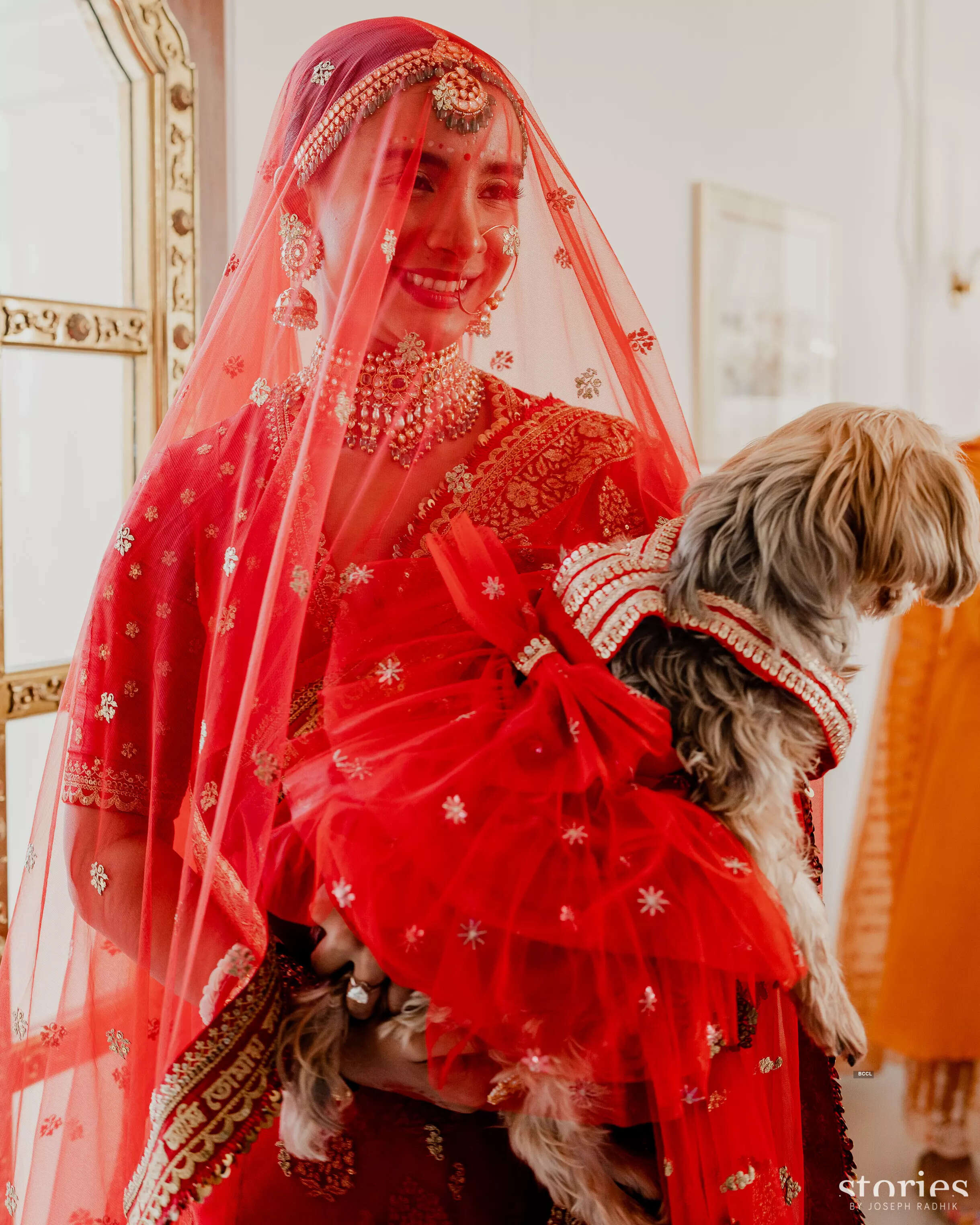 Go on…


The wedding was in a very gorgeous location in Chandigarh and as she walked down to the mandap, Raj (Rajkummar Rao) was waiting for her in the mandap. I have never seen a groom so happy. I tell you, there was not a dry eye in the house. He held her hand and took her to the mandap. He was so happy, he kept dancing throughout the wedding. He danced while Patralekhaa was getting ready, he was dancing in the baraat. He was just excited to get married. It was just pure love!
Did you get any styling inputs from Patralekhaa on her wedding looks?


We had to plan multiple looks for her wedding and she gave me complete creative freedom for it. She just wanted to go all out for her special day. Her only brief to me was, 'For wedding day and reception, I would like to be a little traditional'.
Was there anything borrowed in her style statement?


Nothing borrowed. While the only personalised thing was the veil, her mother gifted her gold bangles with the Bengali sankha and pola (traditional white and red bangles).