Constitution does not consider Hindi as national language: Yogendra Yadav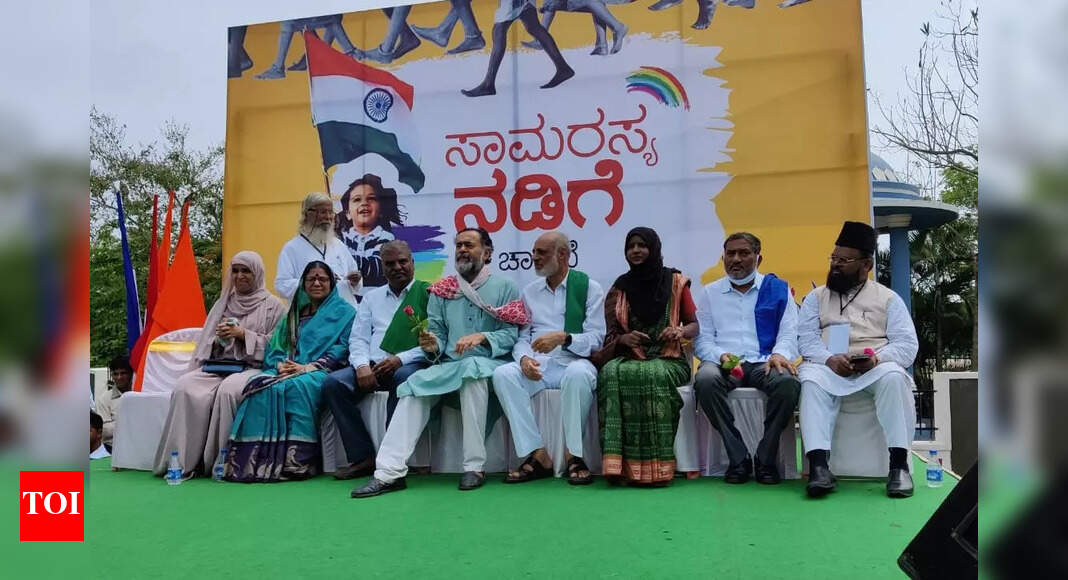 UDUPI: Activist
Yogendra Yadav
said that efforts are being made to impose
Hindi
in India, and thereby divide people. He was speaking at a 'Sahabalve Samavesha', a convention for communal harmony, organised by Sahabalve
Udupi
and
Sauharda Sanghatanegalu
, in Udupi on Saturday.
"A section is trying to divide the nation by creating first-class and second-class citizens. While the first-class citizens will be the owner of the land, the second-class citizens will be the tenants. Some of my friends in Delhi say that Hindi is our national language. Has it been written in the
Constitution
that Hindi should be our 'Rashtra Bhasha?'' It is not there in the Constitution. They are trying to impose Hindi, and thereby trying to treat those who speak Hindi as the owners of the land, and all others as tenants. It will never happen. We should declare here in Udupi, that there is no tenant in this nation, and all of us are owners of this land," Yadav said.
He added that secularism is the 'moolamantra' of the Indian Constitution. "They say that secularism was not there in the Constitution, and argue that it was introduced in 1976 by
Indira Gandhi
. It is a lie. The Constitution has given us the right to equality, right to religion and right to culture. Secularism has been there in the Constitution from the day it came into effect," he said.
The 'dharma' of this nation is to take everyone together. Those who are not able to follow this dharma are not capable of running the country, Yadav said.
On the sedition law, Yadav said that some people have been issuing certificates, identifying people as nationals and anti-nationals. "In fact, one who is uniting people from all religions are nationals. Meanwhile, those who are trying to create rifts between religions are anti-nationals. All of us know who anti-nationals in India are," he said.
Lashing at the 'bulldozer politics', Yadav said that they have been using the money and muscle power. "We have our motherland,
Gautham Buddha
, Basavanna,
Swami Vivekananda
, Bhagat Singh,
Maulana Azad
,
Mahatma Gandhi
, and Sufi tradition, and the Constitution that Baba Saheb Ambedkar gifted us. We will stay strong together, when it comes to the unity of the nation," Yadav said.